(Image found via Google Image Search, using search string "Takarazuka Kagekidan".)
From Wikipedia, a definition:
The
Takarazuka Revue
(宝塚歌劇団
Takarazuka Kagekidan
) is a Japanese all-female musical theater in the city of Takarazuka, Hyōgo Prefecture, Japan. Women play both male and female roles in lavish, Broadway-style productions — most of their plays are Western-style musicals, and sometimes they are stories adapted from shōjo manga and folktales of China and Japan. Their fans are mostly female. Legally, this theatrical company is a division of Hankyu Railway Co. and actresses are employees of the company.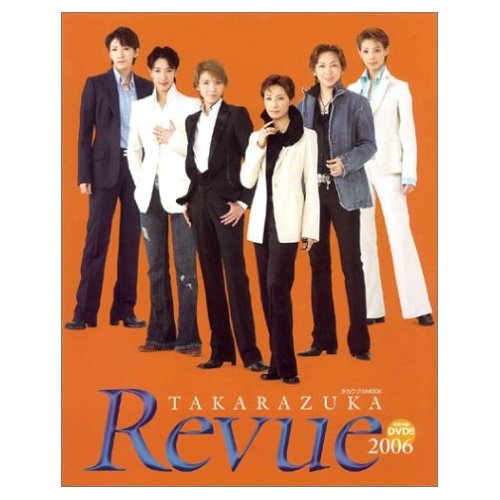 The leading actresses of the Takarazuka Kagekidan in 2006, from left to right: Sena Jun, current Top Star of Moon Troupe; Haruno Sumire, past top star of Flower Troupe; Wao Youka, past top star of Cosmos Troupe; Todoroki Yuu, current top star of Superior Members; Kozuki Wataru, past top star of Star Troupe; and Asami Hikaru, past top star of Snow Troupe.
Introducing Zuka (a nickname for the theater company) to non-fans is kind of tricky, but the definition above already covers many of the important bits. What it *doesn't* mention is that the Kagekidan - or the Revue - is primarily centered on an elite all-girls school for the performing arts, with the motto
Kiyoku, Tadashiku, Utsukushiku
(Pure, Proper, Beautiful). Students in this school eventually elect to become either an
otokoyaku
, a male-role actress, or a
musumeyaku
, a female-role actress.
The
otokoyaku
and
musumeyaku
are then assigned to any one of five troupes, and go on to perform onstage at the Revue's theaters. The troupes are Hana (Flower), Tsuki (Moon), Yuki (Snow), Hoshi (Star), and Cosmos (Sora). A special sixth troupe, Senka (Superior Members), is reserved for those actresses who are over 40, but do not wish to retire yet.
At the apex of each troupe is the position of Top Star, reserved for (primarily) the leading
otokoyaku
, although there is usually a
musumeyaku
Top Star as well. Such a pairing of Top Stars is referred to as a Golden Combination.
The Takarazuka Kagekidan has been around since 1913 (and will be celebrating its centennial in four years). It has produced a lot of talented actresses, and I hope will continue to do so beyond 2013. It's one of my fandoms, and I hope to talk about it some more in this blog.
I hope this post serves as a proper introduction for them, and I'll be happy to welcome comments on the Revue and on this introduction too.